This post has been viewed 948 times
.
Printable Version
Email to a Friend
Subscribe: Email, RSS
Canonization Events Around the City
Posted on Mon, Apr 21, 2014
All Night Vigils and more.....Schedules under the picture!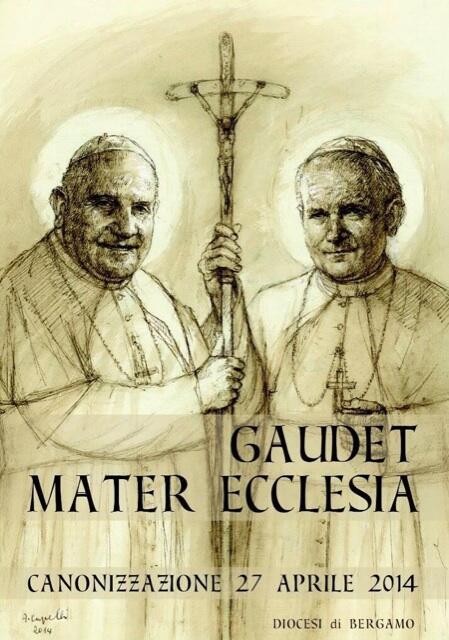 THE CANONIZATION OF POPE JOHN XXIII AND POPE JOHN PAUL II
EVENTS AND MASSES
Sunday, April 27, 12 a.m – 5 a.m.
"Canonization Vigil" at Five Holy Martyrs Parish
This celebration will include recitation of the rosary, poems about Blessed John Paul II, solo and choral performances, organ and Polish Highlander music
2:30 a.m. - short break for coffee and pastries in the Parish Hall
3:00 a.m. - live transmission of the Canonization Mass from Rome followed by a Mass to fulfill the Sunday obligation.
4327 South Richmond, Chicago, 773-254-3636
Sunday, April 27, 5:15 p.m.
Canonization Mass at Holy Name Cathedral
State and Superior Streets, Chicago, 312-787-8040
Sunday, April 27, 11:30 a.m.
Bilingual Mass (English and Polish) followed by a reception at St. Stephen, Deacon & Martyr Parish
Blessed Pope John Paul II's First Class Relic (a drop of his blood) will be on display and special Holy Cards for both popes will be available. 17500 South 84th Avenue, Tinley Park, 708-342-2400
The entire Canonization Service will be broadcast on the
ETERNAL WORD TELEVISION NETWORK (EWTN)
Comcast Channel 119 in South Shore
Starting at 2:30 AM – April 27, 2014
And repeated at 6 PM that evening!